Jamaica Coat of Arms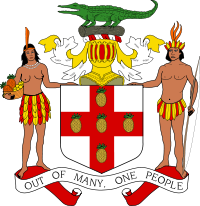 Jamaica Coat of Arms - The original Arms were designed by William Sancroft, who later became Archbishop of Canterbury, and the use of the Royal Helmet and Mantlings together is a unique distinction accorded Jamaica. The original grant of arms was made in February 1661. However, there is a coatofarmscontention that the date should be referred to as 1662 owing to the change in 1752 from the old style of dating to the new. Prior to 1752 the New Year began on March 25. Historians in referencing dates would use the new style of dating so that what was then 1661 would be 1662 to us.

The original Latin motto, "Indus Uterque Serviet Uni" has been changed to one in English: "Out of Many, One People". The arms show a male and female Taino (Arawak) standing on either side of the shield which bears a red cross with five golden pineapples superimposed on it. The Crest is a Jamaican crocodile surmounting the Royal Helmet and Mantlings.

This is the official description of the Jamaica Coat of Arms as taken from the records of the College of Arms, London:

"For Arms, Argent on a Cross Gules five pine-apples slipped OR: and upon a representation of Our Royal Helmet mantled OR doubled Ermine, for the Crest, On a Wreath Argent and Gules, Upon a Log fesse wise a Crocodile Proper: And for the Supporters, On the dexter side a West Indian Native Woman holding in the exterior hand a Basket of Fruits and on the sinister side a West Indian Native Man supporting by the exterior hand a Bow all proper."

Changes in the Coat of Arms: The Jamaica coat of Arms has seen quite a number of changes, but only three are officially recorded. These changes occurred in 1692, 1957 and 1962 respectively.

The use of the Coat of Arms should not be permitted without official sanction being first obtained from the Prime Minister's Office.

Although the colours of the Supporters are described as all proper, that is, in natural colours, it should be noted that in the approved colour sketch the feathered headdress and feathered skirts are red and white.

The single feather in the female figure's headdress is red, and the headband ermine is winter white. The three tall feathers on the male figure are red, the headband and the shorter feathers alternately red and white, commencing with the red (on the left as seen by the observer) and the ending with a white feather on the right. The waistbands on the feathered skirts of both supporters are red.

The strips of feathers making up the skirts are alternately red and white commencing with the red (on the left as seen by the observer) and ending with outer white feathers on the right.

Thanks to the National Library of Jamaica
Related Topics